MARCA Reeds
Picture a small village near Ollioules in the South of France with a wonderful group of devoted French folk dedicated to making the best reed in the world today.
Tucked away from the busy large cities of France, the fresh country air and a feeling of serenity provides a perfect backdrop to the manufacturing process.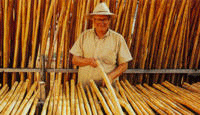 The cane is grown in the best cane growing area of Southern France and provides a high quality cane which is harvested, cut, stored and split over a period of two years before the cane is transformed into the end product so well known - the MARCA reeds.
Each reed after machining on very modern equipment, is hand graded to provide the most uniform product in a particular box. This is not to say that the cane will not move in it's strength in the rest period after machining and before sale.
The quality control of this factory allows the customer to have the confidence to take a reed from a box and perform! How often do you see the player working working working on a reed to try to achieve something which should have happened in the factory.
As sole Australian Distributor we are pleased to service shops Australia wide, at wholesale prices, and sell directly to the public at retail prices. Teachers may purchase at 10% discount on retail prices for 6 or more boxes, and of course Schools have the benefit of the rebate on the GST for their purchases.
Retail sales can be made anywhere in Australia with the addition of $4.40 to cover the cost of postage and handling. Contact us for pricing details on your reed requirements.
Copyright www.webdesigner-profi.de MAXXmarketing GmbH